LittleBigPlanet Community Coordinator Steven Isbell wrote today: "We have been absolutely blown away by your anticipation and excitement for LittleBigPlanet 3. Whilst we still have a lot of work to do before the game is released, we're pleased that we can now announce that LittleBigPlanet 3 will be available for the PlayStation 4 on November 18, 2014! We also wanted to give a massive shout-out to our active LittleBigPlanet community on PlayStation 3. It's been an incredible journey so far with you all and LittleBigPlanet just wouldn't be the same without its amazing community! So we want to let you all know that even if you don't own a PlayStation 4 yet, it won't stop you from joining Sackboy and his new friends in LittleBigPlanet 3 because we will also be releasing LBP3 on PlayStation 3, November 18th with the PS4 version!"
There is also a fantastic range of LittleBigPlanet 3 pre-order bonuses. There is something for everyone, so check out all the great options and extra goodies.
Secure Your Sackboy Plush Today
If you pre-order at participating retailers you will receive a Sackboy plush at no extra charge. Pre-Order at Target and your Sackboy Plush will come with an exclusive Target hat! Quantities are limited, so pre-order today!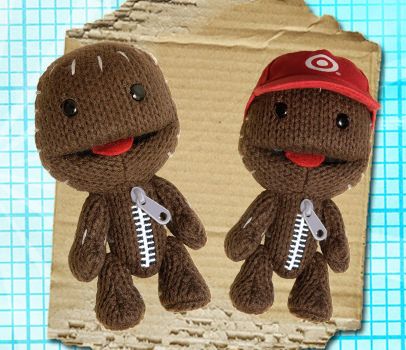 Dragon Age: Inquisition Costume Pack
Sony also revealed this fantastic Dragon Age Costume Pack, which will be a part of the Day 1 Edition that will be given to everybody that pre-orders LittleBigPlanet 3 on PlayStation 4, from any retailer or digitally. The pack, available at launch while supplies last, will equip your heroes with the perfect range of adventuring costumes based on BioWare's latest addition to the Dragon Age series!


Not only that but also included in the Day 1 Edition is the PlayStation 4 The Players Pack containing a variety of costumes based on your favorite PlayStation characters for your pre-order or launch day purchase of LittleBigPlanet 3!
Costume Packs ~ Available from selected retailers

exclusivel

y for PS4!
OddSock, Toggle and Swoop love to dress-up just as much as Sackboy so Sony also announced three additional pre-order bonus costume packs for LittleBigPlanet 3 on PS4 that will be available exclusively at select retailers. The Mythical Creatures Costume Pack and the Hidden Creatures Costume Pack will give each member of the group their own special costume for their upcoming adventure and will be perfect for anyone looking to add more fantasy to their heroic team. The PlayStation Favorite Costume Pack will feature outfits from some of PlayStation's favorite franchises and will be perfect for those looking for a little PlayStation nostalgia.


Pre-order at GameStop for the bonus Mythical Creatures Costume Pack!
Pre-order at Best Buy for the bonus Hidden Creatures Costume Pack!
Pre-order at Amazon.com for the bonus PlayStation Favorites Costume Pack!
LittleBigPlanet 3 T-Shirt Pack
Instant Access content exclusive to the PS Store!
If you prefer to purchase your copy of LittleBigPlanet 3 digitally then we have something special for you. Anyone that pre-orders LittleBigPlanet 3 on the PlayStation Store on either the PS3 or the PS4 will be able to download the LittleBigPlanet 3 T-shirt Pack!

Best of all! Your pre-order will give you Instant Access to the LittleBigPlanet 3 T-Shirt Pack!
What this means is that you will be able to download the shirt right away for your Sackboy to wear in LittleBigPlanet 2, LittleBigPlanet PS Vita and LittleBigPlanet Karting! And then when LittleBigPlanet 3 is released, he will be able to wear it in that game too!
It's Sony's little way of saying thanks to all the fans that pre-order on the PlayStation Store!


Pre-order from the PlayStation Store to download your Instant Access LittleBigPlanet 3 T-Shirt Pack right now!
These pre-order offers are for North America only. For those of you in Europe, please stay tuned for an announcement coming soon. We can't wait for all of you to get your hands on LittleBigPlanet 3's creative toolset and whether you own a PlayStation 3 or a PlayStation 4, you will be able to join us and the rest of the LBP community for Sackboy's greatest adventure yet on November 18, 2014!
---
So, what do you think? We at LBPW honestly can't make up our mind and would love to have all the costume packs and the LBP3 T-shirt pack. It's a tough choice for sure.
Which is your favorite? Let us know in the comments below!